Unnur Stefánsdóttir (1951-2011)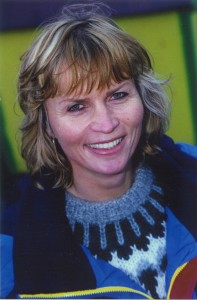 Unnur Stefánsdóttir was born on January 18th 1951 at the farm of Vorsabær in the county of Gaulverjabæjarhreppur. Her parents were Stefán Jasonarson and Guðfinna Guðmundsdóttir who were farmers by the farm there. Unnur grew up in Vorsabær as the second youngest of five siblings. Unnur was very active in working at the farm from early age. At the nearest farms, Vorsabæjarhóll and Vorsabæjarhjáleiga, Unnur's close relatives lived and a big group of cousins grew up on those three farms. The cousins started playing together and practicing all sorts of sports and this environment influenced Unnur through all phases of life.
At an early age Unnur started practicing track and field at Samhygð youth association. She specialised in sprints and middle distance track events and she competed for HSK on her first national tournament in 1968 at the age of 17. This was only the start of a successful carrier of tournaments that peaked in the 80's. Unnur won tournaments both in Iceland as well as abroad and competed with the Icelandic national team. Among Unnur's biggest sport achievements was the gold medal she won at 800 metres at the European Senior Championship in Norway in 1997.
Unnur studied at The District School of Laugarvatn and The Homemaker's School of Suðurland from 1966-1970. Then she moved to Denmark where she studied sports education at Idræthöjskolen at Sönderborg in 1971. From there Unnur registered at the Nursery School of Iceland where Unnur's interest in social activities began and she was the chairman of the student council for one winter. In 1972 she got married to Hákon Sigurgrímsson from Holt in the county of Stokkseyri and moved to Kópavogur where she lived for the rest of her life. They have three grown-up children.
After graduating from the Nursery School Unnur began working various pedagogy related jobs and her political career was launched. Unnur did various jobs for the Progressive Party, was the chairman of the women's association within the party (LFK) from 1983-93, became a substitute member of parliament from 1987-99, the party treasurer from 1992-2000 and a member of the central committee of the party for years. Unnur's main political issues of concern were gender equality and health issues and gender equality policy within the party was made on her initiative. Unnur also initiated an Icelandic policy of nutrition and consumption that was adopted by Alþingi in 1989. In the policy an increased carbohydrate consumption and decreased sugar consumption were regulated as well as a periodical assessment on the nation's overall consumption.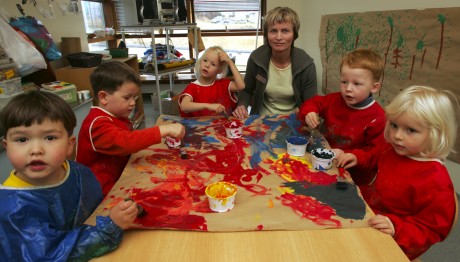 Unnur always lived a healthy life, practised sports, ate healthy and remained abstinent all her life. At early age she adopted the ideals of the youth associations where the motto is to nurture both people and earth. These ideals became Unnur's prime motives in every field she worked in. When Unnur took over the position as a kindergarten principal in Kópavogur in 1995 there was no doubt in her mind about adopting these principals to the community there. In an interview published in Fréttablaðið on December 1st 2008 Unnur says on the origin of the health policy:
"The Health Policy started when I became principal of Skólatröð kindergarten in 1995. I had been teaching a practical pedagogy by the Nursery School and was surprised to find that all the theories and policies taught there were made by foreign males. When I started my work I saw a golden opportunity to develop an Icelandic policy from the scratch. I was joined by 3 teachers by the school to put down together goals that are still fully applicable today. Theses goals promote healthy lifestyle within the kindergarten community along with enjoyment and well-being of the children where the focus is on nutrition, physical activity and artistic creativity through playing. The idea is that if we provide healthy food and plentiful physical activity for the child then it will stimulate the artistic need to create and together this will result in overall well-being. The first few years we put together The Child's Health Book, which is an evaluation standard by which the goals set by the Health Policy are measured, and is used in every Health Kindergarten. Through the years we have also developed the position of faculty directors of every field of the kindergarten. Individuals that are specially trained and have an extensive knowledge on each subject are appointed so that the activity within the Kindergarten becomes even more focused. The goal of the Health Policy is to accustom children from early age to healthy living so as to make it an integral part of their future lifestyle. The main emphasis of different kindergarten may vary but good nutrition, physical activity and artistic will always be their prime feature. Our motto is: "Wholesome spirit in a healthy body"."
The last years of her life Unnur worked as the manager of the health policy at Skólar ehf. When Unnur died on August 8th 2011 18 kindergartens in Iceland had adopted the health policy. Unnur intended to develop a health policy for primary schools but didn't succeed in bringing that work to an end.